sustainability
In order to fulfil our vision of protecting the Earth – before moving to Mars! – our collection is almost completely made of either recycled or recyclable materials. All our suppliers are eco-conscious and based in Europe. Our products are handmade in the UK by a small London manufacturer. It's our mission to give everybody the choice to switch to sustainable fashion, whether they have two, one or no breasts.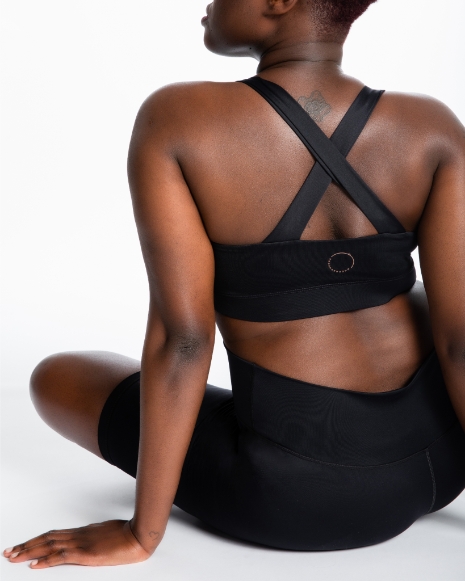 FABRICS
Our first collection is made out of two fabrics. One of our suppliers uses  ECONYL® regenerated nylon which is 100% made from waste that would otherwise pollute the Earth.
Our eco-conscious suppliers have invested in new procedures to cut down on their consumption of water, energy, chemicals and also on their waste and carbon emissions.
ELASTICS
Eco-recycled polyester elastics made of 63% certified recycled polyester and 37% natural rubber certified OEKO TEX Made in Green.
Our UK supplier is an independent family-run business specialised in sustainable and ethical sewing products.
Rubber elastics are made from natural rubber certified by OEKO TEX Standard 100.
Elastics are made entirely at the manufacturer's factory in Italy, production waste is recycled.
FASTENERS AND ADJUSTERS
High quality 100% recycled plastic accessories made of production waste.
Fasteners made of sustainable fabric and recycled plastic.
Certified OEKO TEX Standard 100.
Our Austrian supplier sources 100% of their electricity from Hydropower,
saving 116 tons of CO2 annually.
LABELS
Printed directly on our garments.
Water-based ink, free from harmful chemicals PVCs, phthalates, BPA and formaldehyde.
Certified OEKO-TEX® standard 100, classe 1 compliant and REACH compliant.
Our French supplier provides environmentally friendly high-quality branding with serigraphic transfers.
THREADS
One plastic bottle takes up to 450 years to decompose.
We use recycled plastic bottles and recycled polyester for 100% recycled seams!
All our threads are Certified OEKO-TEX® standard 100 and GRS (Global Recycle Standard).
Our UK supplier brings us our eco-recycled polyester elastic too.
PACKAGING
Home-compostable plastic packaging made from vegetable oil and starch and fully recyclable mailing envelopes.
Our plastic packaging not only protects your garments from rain and other harsh travel conditions but it also disintegrates within 180 days under compost conditions.
Our supplier creates packaging that behaves just like organic waste, so nature won't even notice it!
All our paper envelopes are 100% recyclable and biodegradable.
By 2023, our UK supplier will only manufacture 100% reusable or recyclable packaging.